Is Natural Language Processing (NLP) Going in the Right Direction?
Est-ce que le traitement automatique de la langue (TAL) va dans la bonne direction ?
In just a few decades, natural language processing (NLP) developed tremendously. By gaining access to extremely large natural language data and engineering scalable powerful architectures, language models managed to score well at a lot of tasks. As a result, NLP technologies are now being extensively commercialized, so much so that our everyday life is inescapably exposed to these systems. However, awareness about the risks of these technologies and NLP practice in general is not as well widespread. This raises issues regarding the use of such programmes and their harms. In this talk, I would like to discuss these problems. After some recap about modern-day NLP, I present some major issues pertaining to this field, and I sketch possible solutions.
Est-ce que le traitement automatique de la langue va dans la bonne direction ? %En quelques décennies seulement, le traitement automatique de la langue (TAL) s'est énormément développé. Par la mise à disposition de gros jeux de données linguistiques et la mise au point d'architectures puissantes qui passent à l'échelle, les modèles de langue réussissent à obtenir de bonnes performances sur beaucoup de tâches. En conséquence, les technologies du TAL sont désormais largement commercialisées, à tel point que nous y sommes toutes et tous exposés quotidiennement. Malgré tout, on observe un manque de conscience des risques de ces technologies et des pratiques du TAL de manière générale. Cela soulève des problèmes quant à l'utilisation de tels programmes et des préjudices qu'ils peuvent causer. Lors de ce séminaire, j'aimerais discuter de cette question épineuse. Après un court récapitulatif du TAL actuellement, je présenterai les problèmes majeurs de cette discipline ainsi des solutions possibles.
Fichier principal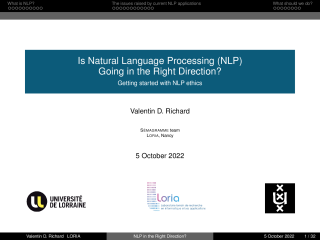 seminar.pdf (7.7 Mo)
Télécharger le fichier
Origin : Files produced by the author(s)