Phobos, Possible Refueling Station for a Single Stage to Orbit Vehicle
Numerous architectures have been proposed for a human mission to Mars. Most of them are appropriate for the first missions but in the long term, important improvements are expected to reduce the complexity and costs of the missions. Assuming the presence of water and carbonates on Phobos, which is suggested by several experts, it might be possible to use this Moon of Mars as a refueling station for rockets coming from Earth and Mars. In the long term, an interesting perspective is to manufacture on Mars a single stage to orbit space plane, called Albatros, that could be used to transfer crews and cargo from Mars orbit to Mars surface and the other way round. Technical specifications and illustrations of this SSTO are given as well as a range of possible applications. This idea was developed in a proposal in response to the recent Mars Society City State Design Competition, where we achieved the third place, with "Foundation".
Fichier principal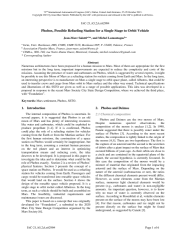 iac-2021-Albatros Phobos.pdf (320.34 Ko)
Télécharger le fichier
Origin : Files produced by the author(s)
Comment : Je détiens le copyright du fichier que je dépose, comme cela est indiqué dans l'entête du fichier.