Kubernetes and the Edge?
Kubernetes et l'informatique en périphérie?
Cloud Computing infrastructures have highlighted the importance of container orchestration software to manage the life cycle of distributed applications. With the advent of Edge Computing era, DevOps expect to find features that made the success of containerized applicationsin the cloud, also at the edge. However, orchestration systems have not been designed to deal withresources geo-distribution aspects such as latency, intermittent networks, locality-awareness, etc. In other words, it is unclear whether they could be directly used on top of such massively distributed infrastructures or whether they must be revised. In this paper, we provide reflections regarding Kubernetes, the well-known container orchestration platform. More precisely, we provide two contributions. First, we discuss results we obtained during an experimental campaign we made to analyze the impact of WAN links on the vanilla Kubernetes. Second, we analyze ongoing initiatives that propose to revise part of the Kubernetes design to better address geo-distribution aspects.
Les infrastructures de Cloud Computing ont mis en évidence les technologies de type conteneur et notamment des logiciels d'orchestration qui facilitent grandement la gestion du cycle de vie des applications distribuées. Avec l'avènement de l'informatique en périphérie (fog/edge computing), il est fortement envisageable que les ingénieurs DevOps attendent de trouver ces memes fonctionnalités dans ces nouvelles infrastructures. Cependant, les systèmes d'orchestration disponibles n'ont pas été conçus pour traiter les aspects de géo-distribution des ressources tels que la latence, les réseaux intermittents, la localité, etc. En d'autres termes, il n'est pas certain qu'ils puissent être utilisés directement sur des infrastructures massivement distribuées au travers plusieurs sites géo-graphiques. Dans cet article, nous présentons une étude préliminaire autour det Kubernetes, le standard open-source de-facto d'orchestration. Plus précisément, nous fournissons deux contributions. Tout d'abord, nous discutons plusieurs résultats obtenus lors d'une campagne expérimentale que nous avons menée pour analyser l'impact des liens WAN sur le code de Kubernetes natif. Deuxièmement, nous analysons les initiatives en cours qui revisitent la solution vanilla afin de mieux aborder les aspects de géo-distribution. Si ces approches pourraient être appropriées pour certains cas d'utilisation, elles sont malheureusement incomplètes pour d'autres et il convient donc de proposer de nouvelles approches.
Fichier principal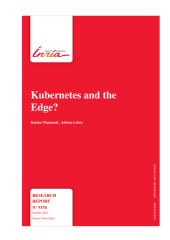 RR-9370.pdf (1005.88 Ko)
Télécharger le fichier
Origin : Files produced by the author(s)