A survey of RDF storage approaches
The Semantic Web extends the principles of the Web by allowing computers to understand and easily explore the Web. In recent years RDF has been a widespread data format for the Semantic Web. There is a real need to efficiently store and retrieve RDF data as the number and scale of Semantic Web in real-word applications in use increase. As datasets grow larger and more datasets are linked together, scalability becomes more important. Efficient data storage and query processing that can scale to large amounts of possibly schema-less data has become an important research topic. This paper gives an overview of the features of techniques for storing \textttRDF data.
Le Sémantique étend les principes du Web en permettant aux ordinateurs de comprendre et d'explorer le Web de façon intelligente. Ces dernières années, RDF s'est largement répandu comme format de données du Web Sémantique. Il y a un réel besoin de stocker et de rechercher de façon efficiente les données RDF vu que le nombre et la taille des données du Web Sémantique utilisées dans les applications du monde réél est en progression continue. Etant donné que les sources de données sont de plus en plus volumineuses et de plus en plus liées, le passage à l'échelle devient plus que necessaire. Le stockage efficace de données et le traitement de requête à l'échelle de grande sources de données souvent sans schémas est devenu un sujet de recherche très important. Cet article présente les caractéristiques des différentes propositions pour le stockage de données RDF.
Fichier principal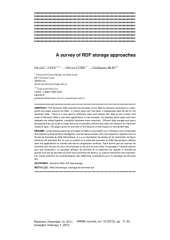 Vol.15.pp.11-35.pdf (752.8 Ko)
Télécharger le fichier
Origin : Publisher files allowed on an open archive