Cohérence de vues dans la spécification des Architectures Logicielles
Cet article s'intéresse à la spécification des architectures logicielles. Il présente une symbiose entre l'approche conceptuelle basée sur les profils UML et la vision opérationnelle prônée par ArchJava. Actuellement, chaque langage de description se situe à une extrémité du processus, engendrant ainsi un découplage entre la spécification des Architectures Logicielles et leur implémentation et un risque d'incohérence. Nous décrivons une démarche basée sur un profil UML pour la description structurale des architectures logicielles et des règles de transformation pour générer le code source. Les expérimentations actuelles sont probantes et nous espérons poursuivre la réflexion sur les configurations et l'aspect dynamique.
This study concerns the specification of software architecture. Its presents a symbiosis between the conceptual approach based on UML profiles and the programming approach recommended by ArchJava. Currently, each ADL addresses separately the specification and the validation, thus we notice a decoupling between the two descriptions and a risk of inconsistency. We describe a step based on a UML profiles for the structural description of software architectures and the transformation rules to generate the source code. The current experiments are convincing and we hope ourselves to continue the reflexion on the configurations and the dynamic aspect.
Fichier principal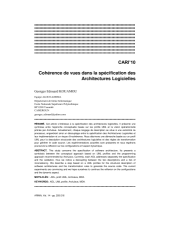 Vol.14.pp.205-216.pdf (538.69 Ko)
Télécharger le fichier
Origin : Publisher files allowed on an open archive