Modeling Variability in the Video Domain: Language and Experience Report
This paper reports about a new domain-specific variability modeling language, called VM, resulting from the close collaboration with industrial partners in the video domain. We expose the requirements and advanced variability constructs required to characterize and realize variations of physical properties of a video (such as objects' speed or scene illumination). The results of our experiments and industrial experience show that VM is effective to model complex variability information and can be exploited to synthesize video variants. We concluded that basic variability mechanisms are useful but not enough, attributes and multi-features are of prior importance, and meta-information is relevant for efficient variability analysis. In addition, we questioned the existence of one-size-fits-all variability modeling solution applicable in any industry. Yet, some common needs for modeling variability are becoming apparent such as support for attributes and multi-features.
Ce document décrit un nouveau langage de modélisation dédiée à la variabilité, appelé VM, résultant de la collaboration avec des partenaires industriels dans le domaine de la vidéo. Nous exposons les exigences et les constructions de la variabilité avancées requises pour caractériser et implémenter les variations des propriétés physiques d'une vidéo (tels que la vitesse des objets ou l'illumination de la scène). Les résultats de nos expérimentations et de l'expérience industrielle montrent que VM est efficace pour modéliser l'information de variabilité complexe et peut être exploitée pour synthétiser des variantes de vidéo. Nous avons conclu que les mécanismes basiques de la variabilité sont certes utiles, mais insuffisants. Les attributs et multi-caractéristiques sont nécessaires alors que les méta-informations sont pertinentes pour une analyse efficace de la variabilité. En s'appuyant sur notre expérience, nous mettons en doute l'existence d'une solution de modélisation de la variabilité applicable à n'importe quelle industrie et domaine. Néanmoins, certains besoins communs pour la modélisation de la variabilité à sont apparents, comme le support pour les attributs et multi-caractéristiques.
Fichier principal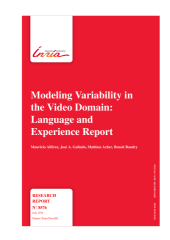 RR-8576.pdf (2.76 Mo)
Télécharger le fichier
Origin : Files produced by the author(s)