Resource Management in Wireless Access Networks: A layer-based classification - Version 1.0
In recent years, wireless access networks have recently experienced significant breakthrough that strongly impacted the way of managing network resources. We can observe considerable emergence of heterogeneous wireless networks where different types of wireless technologies coexist in the same region. Beside widespread deployment of heterogeneous wireless networks, the progress of electronic devices enables implementation of multiple radio interfaces on a single mobile device. Consequently it requires new resource management approaches to exploit diversity gain. Moreover, the dramatic increase in traffic leads to a necessity of efficient resource management. As a result, numerous studies have been conducted to address various issues in resource management. In this report, a survey of recent resource management solutions is presented. It is a layer-based classification survey that can be helpful for any researcher that wants to know the state of the art on existing resource management schemes as well as for technical experts who wants to apply them to real devices.
La percée fulgurante des réseaux d'accès sans-fil au cours de ces dernières années ont eu un impact sur la manière de gérer les ressources dans les réseaux. On peut observer l'émergence des réseaux sans-fil hétérogènes où coexistent différents types de technologies sans-fil. Parallèlement au déploiement généralisé des réseaux sans-fil hétérogènes, l'évolution des appareils électroniques fait que l'on peut avoir plusieurs interfaces radios sur n'importe quel terminal mobile. De nouvelles approches de gestion de ressources sont donc nécessaires pour exploiter cette diversité. Par ailleurs, l'augmentation du trafic oblige à une gestion efficace des ressources des réseaux sans-fil. Ce rapport propose un état de l'art des travaux qui ont été menés pour traiter les différents problèmes de gestion de ressource. C'est une classification en couches qui peut servir à tout chercheur souhaitant connaître l'état de l'art en matière de gestion de ressources dans les réseaux sans-fil ainsi qu'á des experts techniques qui veulent les implémenter.
Fichier principal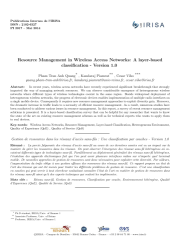 survey-on-ress-mngmt-in-WN.pdf (519.42 Ko)
Télécharger le fichier
Origin : Files produced by the author(s)