Making most voting systems meet the Condorcet criterion reduces their manipulability
Since any non-trivial voting system is susceptible to manipulation, we investigate how it is possible to reduce the set of situations where it is manipulable, that is, such that a coalition of voters, by casting an insincere ballot, may secure an outcome that is better from their point of view. We prove that, for a large class of voting systems, a simple modification allows to reduce manipulability. This modification is Condorcification: when there is a Condorcet winner, designate her; otherwise, use the original rule. Our very general framework allows to do this for any voting system, whatever the form of the original ballots. Hence, when searching for a voting system whose manipulability is minimal, one can restrict to those that meet the Condorcet criterion.
Puisque tout mode de scrutin non trivial est sensible à la manipulation, nous examinons comment il est possible de réduire l'ensemble des situations où il est manipulable, c'est-à-dire où une coalition d'électeurs, en produisant des bulletins non sincère, peuvent obtenir un résultat qui est meilleur de leur point de vue. Nous prouvons que, pour une importante classe de modes de scrutin, une transformation simple permet de réduire la manipulabilité. Cette transformation est la condorcification : quand il y a un vainqueur de Condorcet, il est élu; sinon, on utilise la règle originale. Notre formalisme très général permet de le faire pour tout mode de scrutin, quelle que soit la forme des bulletins dans le mode de scrutin original. Par conséquent, si on cherche un mode de scrutin dont la manipulabilité est minimale (parmi une classe raisonnable), on peut se restreindre à ceux qui vérifient le critère de Condorcet.
Fichier principal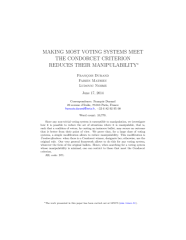 condorcification.pdf (653.28 Ko)
Télécharger le fichier
Origin : Files produced by the author(s)