Where story and media meet: computer generation of narrative discourse
Story generation (including interactive narrative) consists of creating a narrative experience on computer by generating narrative events. It requires building an abstract computational model that can generate a variety of narrative events from a limited set of authored content. These models implement a story logic, as they formalize the occurrence of an event in the story according to various algorithms. At the same time, these stories aim to be expressed to an audience using digital media, which requires a medium logic. In this contribution, we look at the relation between story logic and medium logic in the production of mediated narrative discourse. Using the terminology of Russian formalists and a metaphor borrowed from cinema production, we introduce three models of increasing complexity. In the first model, the story logic (fabulist) creates a fabula which is performed by the medium logic (director) to a screenplay then to the screen. In the second model, the story logic (screenwriter) generates a sjuzhet composed of narrative discourse acts that are staged by the medium logic (director). In the third model, the story and medium logics communicate bidirectionally as co-authors of the screenplay in order to render the story optimally.
La génération automatique d'histoires consiste à créer une expérience narrative par le calcul de séquences d'événements. Les systèmes de génération automatique d'histoire implémentent une logique narrative qui permet la génération des événements. Ces systèmes prennent également en charge la communication des événements sous une forme médiatisée (son, texte, image) et implémentent donc également une logique médiatique. Dans cette communication, nous examinons les problèmes qui se posent lorsqu'on tente de séparer ces deux logiques, et nous proposons une "lingua fanca" permettant l'échange d'information entre la logique narrative et la logique médiatique.
Fichier principal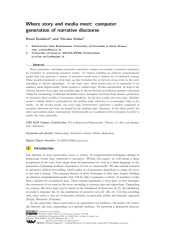 ronfardszilas2014.pdf (2.44 Mo)
Télécharger le fichier
Origin : Files produced by the author(s)