PLASMA : un protocole de Liaison à support multi-anneaux
A new protocol is proposed (called PLASMA). The redundancy of the Token Ring Local Area Networks provides reliability and efficiency. The verification of model is provided with colored Petri Ntes.
Nous proposons un protocole original (appelé PLASMA) qui utilise la redondance des supports de transmission (plusieurs anneaux à jeton) pour rendre plus fiables et plus performants les transferts de données dans les réseaux locaux. Il permet de corriger par basculement les fautes majeures et par retransmission les fautes transitoires. Ce protocole s'intercale entre les sous-couches MAC et LLC, définies par la norme de la couche Liaison de Données pour les réseaux locaux. pour modéliser notre protocole et pour analyser le modèle, nous utilisons une classe des Réseaux de Petri colorés : les Réseaux Ordonnés. le modèle et les résultats sont paramétrés, aussi notre protocole est validé pour n'importe quel nombre d'anneaux à jeton et pour n'importe quelle largeur de la fenêtre de réception.
Fichier principal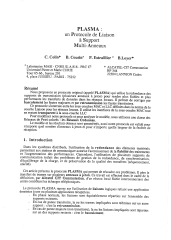 CFIP88.pdf (3.02 Mo)
Télécharger le fichier
Origin : Files produced by the author(s)