Downlink Cellular Interference Alignment
Cellular networks have been notoriously interference-limited systems in dense urban areas, where base stations are deployed in close proximity to one-another. Recently, a signal processing method called Interference Alignment has emerged, making use of the increasing signal dimensions available in the system through multiple-input multiple output (MIMO) and Orthogonal Frequency Division Multiplexing (OFDM) technologies. In this report, we review the state of the art of interference alignment since its foundation, and we detail algorithms and baseline comparisons to make when applying interference alignment schemes to downlink cellular networks. We also propose a number of research directions of interest which are not yet answered in the current literature.
Les réseaux cellulaires ont été l'exemple typique de réseaux dont les performances sont limités par les interférences, particulièrement dans les régions urbaines. Récemment, une nouvelle technique de traitement du signal appelée "alignement d'interférences" a été dévelopée, et permet d'utiliser les dimensions du signal reçu à travers les technologies MIMO (multiple input multiple output) et OFDM (orthogonal frequency division multiplexing) pour annuler tout ou partie de l'interférence reçue par les mobiles. Dans ce rapport, nous évaluons la littérature liée à l'alignement d'interférence et nous détaillons les algorithmes existants et leur application aux réseaux cellulaires en voie descendante. Nous proposons ensuite un ensemble de directions de recherche d'intérêt par rapport à l'état de l'art actuel.
Fichier principal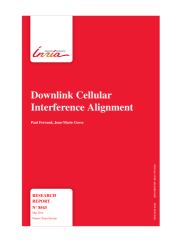 rr-ia.pdf (733.09 Ko)
Télécharger le fichier
Origin : Files produced by the author(s)