[tiger2] As a standardized serialisation for ISO 24615 - SynAF
This paper presents the application of the format to various linguistic scenarios with the aim of making it the standard serialisation for the ISO 24615 (SynAF) standard. After outlining the main characteristics of both the SynAF metamodel and the format, as extended from the initial Tiger XML format (König & Lezius, 2000), we show through a range of different language families how covers a variety of constituency and dependency based analyses.
Cet article présente l'application du format pour divers scenari linguistiques dans le but de l'utiliser comme sérialisation de la norme ISO 24615 (SynAF). Après un rappel des caractéristiques principales du métamodèle de SynAF et du format , en tant qu'extension du format originel Tiger XML (König & Lezius, 2000), nous montrons au travers d'un panel de différentes familles de langues comment couvre une large gamme d'analyses syntaxiques fondées sur des constituants et sur des dépendances.
Fichier principal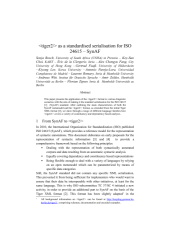 TLT-SynAF2-Tiger2-1.pdf (306.05 Ko)
Télécharger le fichier
Origin : Files produced by the author(s)