Design and Evaluation of a Virtual Experimental Environment for Distributed Systems
Between simulation and experiments on real-scale testbeds, the combined use of emulation and virtualization provide a useful alternative for performing experiments on distributed systems such as clusters, grids, cloud computing or P2P systems. In this paper, we present Distem, a software tool to build distributed virtual experimental environments. Using an homogenenous set of nodes, Distem emulates a platform composed of heterogeneous nodes (in terms of number and performance of CPU cores), connected to a virtual network described using a realistic topology model. Distem relies on LXC, a low-overhead container-based virtualization solution, to achieve scalability and enable experiments with thousands of virtual nodes. Distem provides a set of user interfaces to accomodate different needs (command-line for interactive use, Ruby and REST APIs), is freely available and well documented. After a detailed description of Distem, we perform an experimental evaluation of several of its features.
Entre la simulation et l'expérimentation sur des plates-formes réelles, l'usage combiné de l'émulation et de la virtualisation fournit une alternative utile pour réaliser des expériences sur des systèmes distribués tels que les clusters, grilles, le Cloud ou les systèmes P2P. Dans cet article, nous présentons Distem, un logiciel permettant de construire des environnements expérimentaux distribués virtuels. À partir d'un ensemble homogène de noeuds, Distem émule une plate-forme composée de noeuds hétérogènes (en termes de nombre et de performance de leurs coeurs CPU), connectés à un réseau virtuel décrit à partir d'un modèle de topologies réaliste. Distem se base sur LXC, une solution de virtualisation légère à base de conteneurs, pour obtenir des propriétés de passage à l'échelle satisfaisantes et permettre des expériences avec des milliers de noeuds virtuels. Distem fournit plusieurs interfaces utilisateurs permettant de s'adapter à différents besoins (ligne de commande pour l'usage interactif, Ruby, API REST), est librement disponible et bien documenté. Après une description détaillée de Distem, cet article présente une validation expérimentale de plusieurs de ses fonctionnalités.
Fichier principal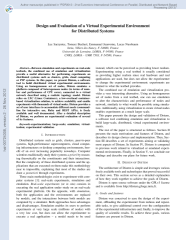 distem-pdp2013.pdf (261.46 Ko)
Télécharger le fichier
distem-slides.pdf (1.35 Mo)
Télécharger le fichier
Origin : Files produced by the author(s)
Origin : Files produced by the author(s)