Energy Management in IaaS Clouds: A Holistic Approach
Energy efficiency has now become one of the major design constraints for current and future cloud data center operators. One way to conserve energy is to transition idle servers into a lower power-state (e.g. suspend). Therefore, virtual machine (VM) placement and dynamic VM scheduling algorithms are proposed to facilitate the creation of idle times. However, these algorithms are rarely integrated in a holistic approach and experimentally evaluated in a realistic environment. In this paper we present the energy management algorithms and mechanisms of a novel holistic energy-aware VM management framework for private clouds called Snooze. We conduct an extensive evaluation of the energy and performance implications of our system on 34 power-metered machines of the Grid'5000 experimentation testbed under dynamic web workloads. The results show that the energy saving mechanisms allow Snooze to dynamically scale data center energy consumption proportionally to the load, thus achieving substantial energy savings with only limited impact on application performance.
La performance énergétique est maintenant devenue l'une des contraintes majeures pour les opérateurs actuels et futurs de centres de cloud. Une des manières de conserver l'énergie est de faire passer les serveurs inutilisés dans un état de consommation moindre (par exemple, 'suspend'). Par conséquent, des algorithmes de placement et d'ordonnancement dynamique de machine virtuelle (MV) ont été proposés pour faciliter la création de périodes d'inactivité. Cependant ces algorithmes sont rarement intégrés dans une solution complète, et rarement évalués de manière expérimentale dans un environnement réaliste. Dans cet article, nous présentons les algorithmes et mécanismes de gestion d'énergie de Snooze, un système novateur de gestion de MV pour centres de cloud privés. Nous effectuons une évaluation approfondie des implications en terme d'énergie et de performance de ce système en reproduisant une charge typique des applications web dynamiques, sur 34 machines de la plateforme d'expérimentation Grid'50000, dont la consommation en énergie peut être mesurée. Les résultats montrent que les mécanismes de conservation d'énergie de Snooze lui permettent d'adapter la consommation énergétique d'un centre de cloud proportionnellement à la charge, conduisant ainsi à des gains significatifs en terme de consommation énergétique, avec un impact limité sur les performances de l'application.
Fichier principal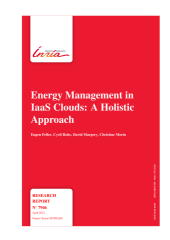 RR-7946.pdf (805.81 Ko)
Télécharger le fichier
Origin : Files produced by the author(s)