Development of a fuzzing tool for the 6LoWPAN protocol
In this report we detail the development of a fuzzing tool for the 6LoWPAN protocol which is proposed by the IETF as an adaptation layer of IPv6 for Low power and lossy networks. Our tool is build upon the Scapy's packets manipulation library. The tool provides different mutation algorithms to be applied on 6LowPAN messages. These messages are defined by interaction scenarios described in an XML format.
Dans ce rapport, nous présentons les détails de développement d'un outil de fuzzing pour le protocole 6LowPAN. Ce protocole est proposé par l'IETF comme une couche d'adaptation du protocole IPv6 pour les réseaux de faible énergie et à forte pertes (Low power and Lossy Networks). Notre outil est basé sur la bibliothèque SCAPY dédiée à la manipulation des paquets. Il fournit différents algorithmes et fonctions de mutation des champs de messages 6LowPAN. Ces messages sont définis par des scénarios d'interaction décrits en langage XML.
Fichier principal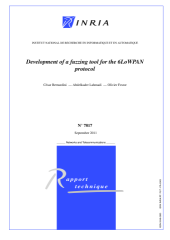 RT-7817.pdf (918.79 Ko)
Télécharger le fichier
Origin : Files produced by the author(s)