Accurate emulation of CPU performance
This paper addresses the question of CPU performance emulation, which allows experimenters to evaluate applications under a wide range of reproducible experimental conditions. Specifically, we propose Fracas, a CPU emulator that leverages the Linux Completely Fair Scheduler to achieve performance emulation of homogeneous or heterogeneous multi-core systems. Several benchmarks reproducing different types of workload (CPU-bound, IO-bound) are then used to thoroughly compare Fracas with another CPU emulator and hardware frequency scaling. We show that the design of Fracas results in a more accurate and a less intrusive CPU emulation solution.
Cet article s'intéresse à la question de l'émulation de la performance du processeur, afin de permettre aux expérimenteurs d'évaluer des applications sous un large intervalle de conditions experimentales. Plus précisément, nous proposons Fracas, un émulateur de processeur qui utilise le Linux Completely Fair Scheduler pour obtenir une émulation des performances de machines multi-coeurs homogènes ou hétérogènes. Plusieurs benchmarks, reproduisant différents types de charge (CPU-intensif, I/O-intensif) sont ensuite utilisés pour comparer de manière extensive Fracas avec un autre émulateur, et avec le réglage matériel de la fréquence du processeur. Nous montrons que la conception de Fracas résulte en une émulation plus précise et moins intrusive.
Fichier principal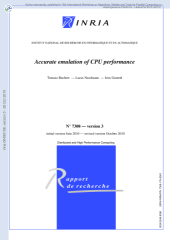 heteropar-accurate-emul-cpu.pdf (452.38 Ko)
Télécharger le fichier
heteropar-accurate-emul-cpu-slides.pdf (388.58 Ko)
Télécharger le fichier
Origin : Files produced by the author(s)