Well Balanced Designs for Data Placement
The problem we consider in this article is motivated by data placement, in particular data replication in distributed storage and retrieval systems. We are given a set V of v servers along with b files (data, documents). Each file is replicated on exactly k servers. A placement consists in finding a family of b subsets of V (representing the files) called blocks, each of size k. Each server has some probability to fail and we want to find a placement which minimizes the variance of the number of available files. It was conjectured that there always exists an optimal placement (with variance better than that of any other placement for any value of the probability of failure). We show that the conjecture is true, if there exists a well balanced design, that is a family of blocks, each of size k, such that each j-element subset of V , 1 ≤ j ≤ k, belongs to the same or almost the same number of blocks (difference at most one). The existence of well balanced designs is a difficult problem as it contains as a subproblem the existence of Steiner systems. We completely solve the case k = 2 and give bounds and constructions for k = 3 and some values of v and b.
Nous considérons un problème motivé par le placement de données, en particulier la réplication de données dans les systèmes distribués de stockage et de récupération. Étant donné un ensemble V de v serveurs et un ensemble de b fichiers (données, documents), chaque fichier est répliqué dans exactement k serveurs. Un placement est une famille de b sous-ensembles de V (représentant les fichiers) appel ́es blocks, chacun étant de taille k. Chaque serveur a une certaine probabilité de tomber en panne et nous cherchons un placement qui minimise la variance du nombre de fichiers disponibles. Il a été conjecturé qu'il existe toujours un placement qui est optimal quelle que soit la probabilité de panne. Nous prouvons que la conjecture est vraie s'il existe une configuration équilibrée, c'est-a`-dire une famille de blocks, chacun de taille k, telle que chaque sous-ensemble de V de taille j, 1 ≤ j ≤ k, appartient au même nombre ou au quasi même nombre de blocks (différence d'au plus un). L'existence de configurations équilibrées est un problème difficile car il inclut comme sous-problème l'existence de systèmes de Steiner. Nous résolvons complètement le cas k = 2 et nous prouvons des bornes et des constructions pour k = 3 et certaines valeurs de v et de b.
Fichier principal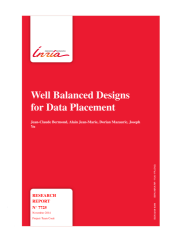 RR-7725.pdf (781.24 Ko)
Télécharger le fichier
Origin : Files produced by the author(s)