Shape Matching by Localized Calculations of Quasi-isometric Subsets, with Applications to the Comparison of Protein Binding Patches
Given a protein complex involving two partners, the receptor and the ligand, this paper addresses the problem of comparing their binding patches, i.e. the sets of atoms accounting for their interaction. This problem has been classically addressed by searching quasi-isometric subsets of atoms within the patches, a task equivalent to a maximum clique problem, a NP-hard problem, so that practical binding patches involving up to 300 atoms cannot be handled. We extend previous work in two directions. First, we present a generic encoding of shapes represented as cell complexes. We partition a shape into concentric shells, based on the shelling order of the cells of the complex. The shelling order yields a shelling tree encoding the geometry and the topology of the shape. Second, for the particular case of cell complexes representing protein binding patches, we present three novel shape comparison algorithms. These algorithms combine a Tree Edit Distance calculation (TED) on shelling trees, together with Edit operations respectively favoring a topological or a geometric comparison of the patches. We show in particular that the geometric TED calculation strikes a balance, in terms of accuracy and running time between a purely geometric and topological comparisons, and we briefly comment on the biological findings reported in a companion paper.
Étant donné un complexe protéique impliquant deux partenaires, un récepteur et un ligand, ce papier étudie le problème de comparer leur patchs de liaison, i.e. les ensembles d'atomes participant à leur interaction. Ce problème est classiquement formulé comme une recherche de sous-ensembles d'atomes quasi-isométriques entre les deux patchs, une tâche qui est équivalente à une recherche de cliques maximums. Ce problème étant NP-difficile, des patchs de liaison impliquant plus de 300 atomes ne peuvent-être traités. Nous étendons les travaux précédant dans deux directions. Premièrement, nous présentons un encodage générique pour les formes représentées par des complexes cellulaires. Nous partitionnons une forme en couches concentriques, basées sur ''l'ordre de couche'' des cellules du complexe. L'ordre des couches produisant un arbre de couches qui encode la géométrie et la topologie de la forme. Deuxièmement, pour le cas particulier de complexes cellulaires représentant des patchs de liaison de complexes protéiques, nous proposons trois algorithmes de comparaison de formes. Ces algorithmes combinent une distance d'édition d'arbre (TED, pour tree-edit-distance) sur les arbres de couches, avec des opérations d'éditions favorisant respectivement la comparaison topologique ou géométrique des patchs. Nous montrons en particulier que la TED géométrique établit un équilibre, en termes de précision et de temps de calculs, entre des comparaisons purement géométriques ou purement topologiques, et nous commentons brièvement les résultats biologiques qui sont détaillés dans un article compagnon.
Fichier principal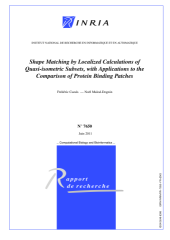 RR-7650.pdf (2.83 Mo)
Télécharger le fichier
Origin : Files produced by the author(s)