Sampling per mode for rare event simulation in switching diffusions
An interacting particle system (IPS) approach is virtually applicable to estimate rare event for switching diffusions, since these processes own the strong Markov property. Nevertheless, in practice the straightforward application of this approach to switching diffusions fails to produce reasonable estimates within a reasonable amount of simulation time. This happens because each resampling step tends to sample more "heavy" particles from modes with higher probabilities, thus "light" particles in the modes with small probability tend to be discarded. To avoid this, a conditional "sampling per mode" algorithm has been proposed by Krystul (2006): instead of starting the algorithm with particles randomly distributed, we draw in each mode a fixed number of particles and at each resampling step, the same number of particles is sampled for each visited mode. In this paper, we establish a law of large numbers theorem as well as a central limit theorem (CLT) for the estimate of the rare event probability.
Un algorithme de branchement multi-niveaux peut en principe être utilisé pour estimer des évènements rares dans des diffusions à paramètre markovien, puisque ces processus vérifient la propriété de Markov forte. En pratique, l'application directe de cet algorithme peut échouer à produire une estimation raisonnable en un temps de simulation raisonnable. En effet, chaque étape de ré-échantillonnage tend à favoriser les particules dans les modes de forte probabilité, de sorte que les particules dans les modes de faible probabilité tendent à être éliminées. Pour éviter cet écueil, un algorithme de ré-échantillonnage par mode a été proposé par Krystul (2006) : au lieu de démarrer l'algorithme avec des particules distribuées aléatoirement, on génère dans chaque mode un nombre fixé de particules, et à chaque étape de ré-échantillonnage, le même nombre de particules est généré dans chaque mode visité. Dans cet article, on établit une loi des grands nombres et un théorème central limite (TCL) pour l'estimation de la probabilité de l'évènement rare.
Fichier principal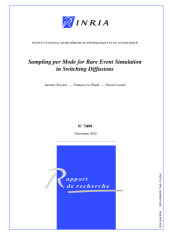 RR-7499.pdf (332.74 Ko)
Télécharger le fichier
Origin : Files produced by the author(s)