Modélisation et implémentation de l'architecture PAC à l'aide des patrons Proxy et Abstract Factory
Software architectural models like MVC and PAC are now well known, and can be implemented in many different ways. This is a problem for students when they have to implement these models, because they do not know how to select an appropriate solution. For now several years we have proposed a methodology to facilitate the implementation of the PAC model. This methodology is mainly based on Design Patterns such as « Proxy », « Abstract Factory », and « Singleton ». Thanks to this methodology, the structure of the source code is imposed and ensures an efficient separation between the application kernel and the GUI. Then, students learn to implement this separation efficiently, and they discover also with this separation that the software can evolve more easily: it is easy to change the GUI or the kernel without affecting the other part, and to add interaction possibilities to a non-interactive kernel.
Des modèles d'architecture tels que MVC, PAC, PAC-Amodeus ou Arch donnent lieu à de nombreuses possibilités d'implémentation. Ceci pose des problèmes aux étudiants ou jeunes diplômés qui ne savent pas quelle solution choisir lorsqu'ils doivent les coder. Depuis plusieurs années, nous avons mis au point une méthodologie qui implémente le modèle PAC en utilisant principalement les patrons de conception Proxy, Fabrique Abstraite, et, dans une moindre mesure, Singleton. Grâce à cette méthodologie, les étudiants sont guidés dans la structuration de leur code, et l'IHM est séparée efficacement du noyau fonctionnel, montrant ainsi comment réaliser proprement cette séparation avec des propriétés d'évolution importantes : changement de l'IHM ou du code du noyau fonctionnel, mais aussi ajout d'interactivité à un noyau fonctionnel non interactif. Nous proposons donc de présenter ici cette démarche méthodologique et de l'illustrer à l'aide d'un exemple que nous traiterons en Java en utilisant l'API Swing. À l'issue du cours, destiné aussi bien à des étudiants de niveau master 2 qu'à des doctorants ou à des ingénieurs débutants, on doit être en mesure de structurer efficacement une application interactive à l'aide du modèle PAC-Amodeus, en rendant notamment le composant de contrôle le plus indépendant possible de la partie présentation graphique et de la boîte `à outils graphique effectivement utilisée.
Fichier principal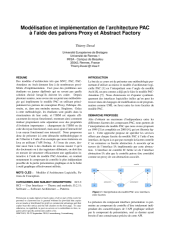 CoursPACIHM2010.pdf (62.27 Ko)
Télécharger le fichier
Origin : Files produced by the author(s)