Snooze: A Scalable, Fault-Tolerant and Distributed Consolidation Manager for Large-Scale Clusters
Intelligent workload consolidation and dynamic cluster adaptation offer a great opportunity for energy savings in current large-scale clusters. Because of the heterogeneous nature of these environments, scalable, fault-tolerant and distributed consolidation managers are necessary in order to efficiently manage their workload and thus conserve energy and reduce the operating costs. However, most of the consolidation managers available nowadays do not fulfill these requirements. Hence, they are mostly centralized and solely designed to be operated in virtualized environments. In this work, we present the architecture of a novel scalable, fault-tolerant and distributed consolidation manager called Snooze that is able to dynamically consolidate the workload of a software and hardware heterogeneous large-scale cluster composed out of resources using the virtualization and Single System Image (SSI) technologies. Therefore, a common cluster monitoring and management API is introduced, which provides a uniform and transparent access to the features of the underlying platforms. Our architecture is open to support any future technologies and can be easily extended with monitoring metrics and algorithms. Finally, a comprehensive use case study demonstrates the feasibility of our approach to manage the energy consumption of a large-scale cluster.
Une consolidation intelligente des charges applicatives et une adaptation dynamique des grappes de calculateurs offrent des opportunités importantes d'économiser l'énergie dans les grappes de calculateurs actuelles. Étant donnée la nature hétérogène de ces environnements, il est nécessaire de fournir des gestionnaires de consolidation passant à l'échelle, tolérants aux fautes, et distribués, afin de gérer efficacement les charges applicatives de ces grappes et ainsi économiser l'énergie et réduire les coûts opérationnels. Cependant, la plupart des gestionnaires de consolidation disponibles de nos jours ne satisfont pas ces critères. Ainsi, ces gestionnaires de consolidation sont pour la plupart centralisés et ne sont conçus que pour des environnements virtualisés. Dans ce travail, nous présentons l'architecture d'un nouveau gestionnaire de consolidation passant à l'échelle, tolérant aux fautes, et distribué, appelé Snooze, qui est capable de consolider dynamiquement la charge applicative d'une grappe hétérogène du point de vue logiciel comme du point de vue matériel, de grande taille, et composée de ressources utilisant les technologies de virtualisation et de système à image unique (SSI). Pour cela une API commune pour la supervision et la gestion d'une grappe est présentée. Cette API permet d'accéder de façon uniforme et transparente aux fonctionnalités des plates-formes sous-jacentes. Notre architecture est ouverte afin d'être adaptable aux technologies futures, et peut être étendue aisément avec d'autres métriques et algorithmes de supervision. Enfin, une étude complète de cas d'utilisation montre la faisabilité de notre approche pour gérer la consommation d'énergie d'une grappe de grande taille.
Fichier principal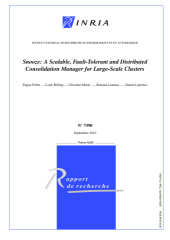 RR-7398.pdf (464.95 Ko)
Télécharger le fichier
Origin : Files produced by the author(s)