A model for Pareto-optimal performance evaluation of wireless ad hoc networks
In this report we propose a MultiObjective (MO) performance evaluation framework for wireless ad hoc networks where criteria such as capacity, robustness, energy and delay are optimized concurrently. Within such a framework, we can determine both the Pareto-optimal performance bounds and the networking parameters that provide these bounds. The originality of this approach is that it accounts for the inherent broadcast properties of the transmission and finely models the interference distribution. In the proposed model, the network performance can be optimized when several flows (source- destination transmissions) exist. One benefit of our approach is that the complexity does not grow with the number of flows. The other major contribution of this paper is the new analytical formulation of the performance metrics. It relies on a matrix representation of the constraints imposed by the interference- limited and broadcast wireless channel. Because of the similarity of this matrix with a Markovian transition matrix, we can exploit classical results from Markov chains theory to derive steady state performance metrics relative to capacity, robustness, energy and delay. Another very interesting feature of these new metrics is that the Pareto-optimal solutions related to them provide a tight bound on capacity, robustness, energy and delay.
Ce rapport de recherche présente un modèle multiobjectif d'évaluation des performances d'un réseau ad hoc sans-fils. Les critères tels que la capac- ité, la robustesse, l'énergie et le délais de transmission sont optimisés conjointement. Grâce à ce modèle il est possible de déterminer une borne en performance Pareto-optimale et les différents paramètres du réseau qui permettent d'obtenir de telles bornes. L'originalité de cette approche réside dans le fait qu'elle modèle finement la nature broadcast intrinsèque du canal radio et prend en compte de façon précise la distribution des interférences dans le réseau. Il est ici possible d'optimiser les décisions de routage et d'ordonnancement des paquets dans un réseau quand plusieurs flots sont transmis dans le réseau. La complexité de cal- cul de l'ensemble des solutions Pareto-optimale n'augmente |pas avec le nombre de flots présents dans le réseau. La contribution majeure de ces travaux est la présentation d'un nouvelle formulation analytique des mesures de performance. Cette formulation se base sur une représentation matricielle des contraintes imposées par la nature broadcast du canal et la distribution des interférences dans le réseau. Du fait de la similarité de cette matrice avec une matrice Markovi- enne, il est possible d'exploiter des résultats classiques de la théorie des chaînes de Markov pour déduire des métriques de capacité, robustesse, énergie et délais, le tout pour un régime permanent.
Fichier principal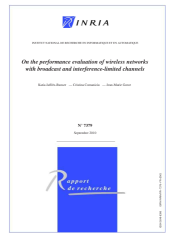 RR-7379.pdf (279.49 Ko)
Télécharger le fichier
Origin : Files produced by the author(s)