An introduction to constructive algebraic analysis and its applications
This text is an extension of lectures notes I prepared for les Journées Nationales de Calcul Formel held at the CIRM, Luminy (France) on May 3-7, 2010. The main purpose of these lectures was to introduce the French community of symbolic computation to the constructive approach to algebraic analysis and particularly to algebraic D-modules, its applications to mathematical systems theory and its implementations in computer algebra systems such as Maple or GAP4. Since algebraic analysis is a mathematical theory which uses different techniques coming from module theory, homological algebra, sheaf theory, algebraic geometry, and microlocal analysis, it can be difficult to enter this fascinating new field of mathematics. Indeed, there are very few introducing texts. We are quickly led to Björk's books which, at first glance, may look difficult for the members of the symbolic computation community and for applied mathematicians. I believe that the main issue is less the technical difficulty of the existing references than the lack of friendly introduction to the topic, which could have offered a general idea of it, shown which kind of results and applications we can expect and how to handle the different computations on explicit examples. To a very small extent, these lectures notes were planned to fill this gap, at least for the basic ideas of algebraic analysis. Since, we can only teach well what we have clearly understood, I have chosen to focus on my work on the constructive aspects of algebraic analysis and its applications.
Ce texte est une extension des notes de cours que j'ai préparés pour les les Journées Nationales de Calcul Formel qui ont eu lieu au CIRM, Luminy (France) du 3 au 7 Mai 2010. Le but principal de ce cours était d'introduire la communauté française du calcul formel à l'analyse algébrique constructive, et particulièrement à la théorie des D-modules algébriques, à ses applications à la théorie mathématique des systèmes et à ses implantations dans des logiciels de calcul formel tels que Maple ou GAP4. Parce que l'analyse algébrique est une théorie mathématique qui utilise différentes techniques venant de la théorie des modules, de l'algèbre homologique, de la théorie des faisceaux, de la géométrie algébrique et de l'analyse microlocale, il peut être difficile d'entrer dans ce domaine, nouveau et fascinant, des mathématiques. En effet, il existe peu de textes introductifs. Nous sommes rapidement conduits aux livres de Björk qui, à première vue, peuvent sembler difficiles aux membres de la communauté de calcul formel et aux mathématiciens appliqués. Je pense que le problème vient moins de la difficulté technique de la littérature existante que du manque d'introductions pédagogiques qui donnent une idée globale du domaine, montrent quels types de résultats et d'applications on peut attendre et qui développent les différents calculs à mener sur des exemples explicites. A leur humble niveau, ces notes de cours ont pour but de combler ce manque, tout du moins en ce qui concerne les idées de base de l'analyse algébrique. Puisque l'on ne peut enseigner bien que les choses que l'on a bien comprises, j'ai choisi de restreindre cette introduction à mes travaux sur les aspects constructifs de l'analyse algébrique et sur ses applications.
Fichier principal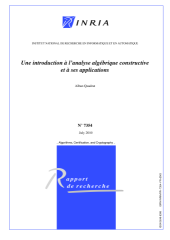 Cours.pdf (2.18 Mo)
Télécharger le fichier
Origin : Files produced by the author(s)