A New Range Reduction Algorithm
Range reduction is a key point for getting accurate elementary function routines. We introduce a new algorithm that is fast for input arguments belonging to the most common domains, yet accurate over the full double precision range.
La réduction d'argument est une étape cruciale pour obtenir des programmes précis de calcul des fonctions élémentaires. Nous proposons un nouvel algorithme qui est rapide pour les arguments d'entrée les plus courants, tout en étant précis pour tous les arguments représentables en virgule flottante "double précision"
Fichier principal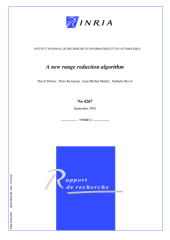 RR-4267.pdf (229.8 Ko)
Télécharger le fichier
RR2001-33.pdf (374.56 Ko)
Télécharger le fichier