Synchronous Machines: a Traced Category
Synchronous programming languages have been extensively used in the area of critical embedded systems. Synchronous machines, a specific class of labelled transition systems, are often used to give denotational semantics of these languages. In this work, we study the categorical structure of the aforementioned machines. We first show that the category S of synchronous machines can be given a traced symmetric monoidal structure with diagonals. Then, we apply a standard variant of the Int construction to S and relate the composition in the resulting category with the synchronous product, the operation used to model parallel composition of synchronous programs. We also show how properties of synchronous machines like determinism and reactivity relate to the way they compose with diagonal morphisms of S.
Les langages de programmation synchrone sont fréquemment utilisés dans le domaine des systèmes embarqués critiques. Les machines synchrones, qui sont une classe spécifique de système de système à transition d'état, ont souvent été utilisées pour donner des sémantiques dénotationnelles de ces langages. On montre dans un premier temps que la catégorie S des machines synchrones est une catégorie symétrique monoïdale à trace avec diagonales. Puis on y applique un variante standard de la construction Int pour voir que la composition dans la catégorie obtenue correspond au "produit synchrone", l'opération utilisée pour modéliser la composition parallèle de programmes synchrones. On voit également comment les propriétés des machines synchrones comme la réactivité ou le déterminisme sont liée à la façon dont elles se composent avec les morphismes diagonaux de S.
Fichier principal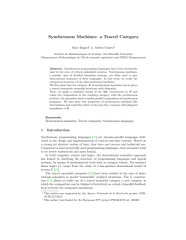 synchronous-machines.pdf (951.83 Ko)
Télécharger le fichier
Origin : Files produced by the author(s)