Facets of the set theoretic representation of categorical data
There are three basic notions in Data Analysis : object, category and descriptive attribute. Two description cases are of concern ; describing an object set O or describing a category set C. For the former case the set theoretic representation of a given attribute is defined with respect to O and for the latter, it is defined within each category of C. For these representations a given descriptive attribute is interpreted in terms of a relation with a given arity defined on the described set. We propose in this work a unique principle for the set theoretic representation of a descriptive attribute of different types : boolean, numerical, nominal categorical, ordinal categorical, preordonance categorical, taxonomic categorical and taxonomic preordonance categorical. The formal representations of these different types are explicited and compared in both cases : for an object set description and for a category set description. Then these representations are applied in interesting real examples.
Trois notions basiques interviennent en Analyse des Données : la notion d'objet, celle de catégorie et celle d'attribut descriptif (on dit encore variable descriptive). La description peut concerner un ensemble d'objets ou un ensemble de catégories. Dans le premier cas, l'attribut est représenté par rapport à l'ensemble des objets qu'il d'écrit et dans le second cas, il est représenté au sein de chacune des catégorie. L'attribut est interprété dans les termes d'une relation d'arité donnée sur l'ensemble des objets qu'il d'écrit. Nous proposons dans ce travail de synthèse un principe unique de représentation ensembliste des attributs de description de différents types : booléen, numérique, catégoriel (on dit aussi qualitatif ) nominal, catégoriel ordinal, catégoriel préordonnance, catégoriel taxonomique et catégoriel préordonnance taxonomique. Nous explicitons et nous comparons les représentations formelles de ces différents types d'attributs ; d'une part, dans le cas de la description d'un ensemble d'objets et d'autre part, dans le cas de la description d'un ensemble de catégories.
Fichier principal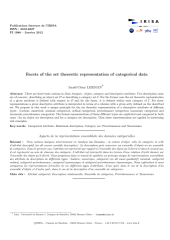 PI-1988.pdf (517.04 Ko)
Télécharger le fichier
Origin : Files produced by the author(s)