One Idea and Three Concepts for Indoor-Outdoor Navigation
For pedestrian navigation when a precision of one step is required as for navigation of visually impaired people or if the envisaged mobile appplication needs to position POIs with a high precision, there is no real difference between indoor and outdoor navigation as an IMU-based localization system has to be used. IMU-based localization is not an absolute positioning system and proceeds by path integration so it must be associated to another kind of localization system such as GPS, WI-FI, RFID, IBR (Image-Based Recognition). Pedestrian navigation has to cope with the main difficulties encountered by visually impaired people, i.e. preplanning routes, recovery form unexpected detours and maintening heading. Path integration, 3D audio cues and structured environment are navigation aids used implicitly by visually impaired people and give them highly successful navigation. Our position is that a navigation system can be build starting from a conceptual definition of these three aids which are inter-related. Our prototype navigation system built above these three concepts, works indoor and outdoor when the environment is structured or has a regular layout. It's a complex system with many services and data exchanges between concurrent processes. For this reason, we have build it using XML and Web technologies, allowing easy personnalization of the level of navigation aid, and easy authoring of personnal audio cues and POIs on a specific itinerary.
Pour la navigation pédestre de haute précision, il n'y a pas de différence entre navigation indoor et outdoor car seule une centrale d'inertie est utilisable pour la localisation. Cette centrale doit être couplée à une cartographie de haute-précision. La mémoire du chemin parcouru, l'audio 3D et un environnement strucuturé sont probablement les trois aides à la navigation utilisées implicitement par les personnes déficientes visuelles. Notre système de navigation est donc bâti sur ces trois concepts, en utilisant les technologies XML et Web qui facilitent la réalisation d'un système de cette complexité.
Fichier principal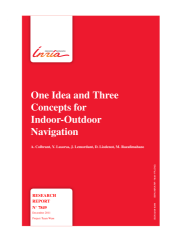 RR-7849.pdf (1.04 Mo)
Télécharger le fichier
Origin : Files produced by the author(s)