Snooze: A Scalable and Autonomic Virtual Machine Management Framework for Private Clouds
With the advent of cloud computing and the need to satisfy growing customers resource demands, cloud providers now operate increasing amounts of large data centers. In order to ease the creation of private clouds, several open-source Infrastructure-as-a-Service (IaaS) cloud management frameworks (e.g., OpenNebula, Nimbus, Eucalyptus, OpenStack) have been proposed. However, all these systems are either highly centralized or have limited fault-tolerance support. Consequently, they all share common drawbacks: scalability is limited by a single master node and Single Point of Failure (SPOF). In this paper, we present the design, implementation and evaluation of a novel scalable and fault-tolerant virtual machine (VM) management framework called Snooze. For scalability our system utilizes a self-organizing hierarchical architecture and performs distributed VM management. Moreover, fault-tolerance is provided at all levels of the hierarchy, thus allowing the system to self-heal in case of failures. Our evaluation conducted on 144 physical machines of the Grid'5000 experimental testbed shows that the fault-tolerance features of the framework do not impact application performance. Moreover, negligible cost is involved in performing distributed VM management and the system remains highly scalable with increasing amounts of resources.
Avec l'émergence de l'informatique en nuage et l'augmentation des demandes en ressources par les utilisateurs, les fournisseurs de nuages informatiques utilisent de plus en plus de centres de données de grande taille. Afin de faciliter la création de nuages informatiques privés, plusieurs gestionnaires de nuages informatiques de type Infrastructure-as-a-Service (IaaS) ont été proposés sous forme de logiciel libre (e.g., OpenNebula, Nimbus, Eucalyptus, OpenStack). Cependant, tous ces systèmes sont fortement centralisés ou ont un support limité pour la tolérance aux pannes. Par conséquent, ils partagent tous les mêmes limitations : passage à l'échelle limité par un nœud maître unique et point unique de défaillance (SPOF). Dans cet article, nous présentons l'architecture, la mise en œuvre et l'évaluation d'un gestionnaire de machines virtuelles novateur, passant à l'échelle et tolérant aux pannes, nommé Snooze. Pour passer à l'échelle, notre système utilise une architecture hiérarchique auto-organisante et effectue une gestion distribuée des machines virtuelles. De plus, la tolérance aux pannes est fournie à tous les niveaux de la hiérarchie, permettant ainsi au système de s'auto-réparer en cas de panne. Notre évaluation réalisée sur 144 machines physiques de la plate-forme expérimentale Grid'5000 montre que la tolérance aux pannes de notre gestionnaire n'influe pas sur les performances des applications. De plus, le coût de la gestion distribuée des machines virtuelles est négligeable, permettant à notre système de passer à l'échelle pour un nombre croissant de ressources.
Fichier principal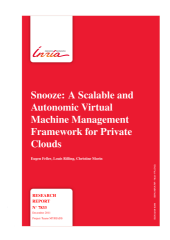 RR-7833.pdf (688.91 Ko)
Télécharger le fichier
Origin : Files produced by the author(s)