A Dynamic Distributed Algorithm for Read Write Locks (extended abstract)
In this paper, a new algorithm that extends Naimi-Trehel token-based mutual exclusion is proposed. Contributions are twofold. First, our algorithm evolves within an changing environment; processes can join and leave the system while the parent tree is in ongoing transformation and, while requests accessing the critical section are inserted. Both the tree structure and the original algorithm are amended. We impose new rules and add new variables to the original structure, so as to maintain the connectivity of the parent tree as well as the Next chain, whatever circumstances. Second, the possibility to share the token between processes is introduced. This allows either multiple concurrent readers or a single writer to enter the critical section. In the Next chain of successive readers, a newly introduced Reader Handler ensures that all following requesters for read access may enter the critical section simultaneously, and keeps the token as long as at least one reader is in the critical section. In all cases, our approach can be implemented such that it keeps an average complexity of O(log(n)) messages per request.
Nous proposons dans ce papier une extension de l'algorithme d'exclusion mutuelle, à base de jeton de Naimi-Tréhel. Notre contribution se présente sous deux angles différents. Premièrement, notre algorithme progresse dans un environnement inconstant. Les processus peuvent joindre et quitter le système. En même temps, l'arbre parent subit des transformations au fur et à mesure que les requêtes d'accès à la section critique sont insérées. Les modifications portent aussi bien sur l'algorithme que sur la structure arborescente parent ainsi que sur la chaîne Next. De ce fait, Nous imposons de nouvelles règles et de nouvelles variables aux structures de départ, de sorte que la connexité de l'arbre parent ainsi que celle de la chaîne Next soient maintenues. Deuxièmement, nous rendons possible l'agencement du jeton partagé à l'exclusif. Ainsi, la section critique devient accessible, soit par plusieurs lecteurs concurrents soit par un seul écrivain. Dans la chaîne Next, le " gestionnaire des lecteurs " est introduit pour assurer l'entrée en section critique de tous les lecteurs successifs. De même, le gestionnaire des lecteurs garde le jeton partagé tant qu'au moins un lecteur est en section critique. Dans tous les cas de figure, l'implantation de notre approche garantit une complexité logarithmique de l'ordre de O(log(n)) messages par requête.
Fichier principal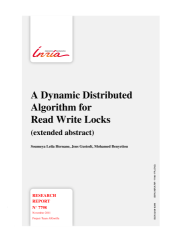 RR-7798.pdf (387.37 Ko)
Télécharger le fichier
Origin : Files produced by the author(s)